01 Sep

ARTeNews – September 2017
Ron's Palette
Is It September Already?
Santa Fe was incredible this Summer with cooler temperatures and plenty of beautiful clouds and rain. Hard to believe we are already into our "Back to School" season and summer is getting ready to say "adios"! Time really does seem to fly with this getting older thing (Sorry, just had a birthday).
I hope everyone had a chance to get down to the Indian Market in the Plaza last week. There was incredible energy and it was packed with buyers, with most of the artists giving very favorable reports on their sales.
I had the honor of introducing Donn Clark (the Bear) for his musical performance on Sunday when his band performed on the bandstand. Donn is a painter and always dreamed of playing his music on the main stage during the market and has talked about it for years. This year the organizers scheduled him to play both days and besides his great booth sales…he got to entertain the crowd with his original blues music. The topping of that was his son came in from Arizona and played bass guitar and saw the completion of his fathers dream…how cool is that!
Hope this Fall finds something cool happening in your life too! Go paint something colorful!
Namaste, Ron
Art Fusion Radio Schedule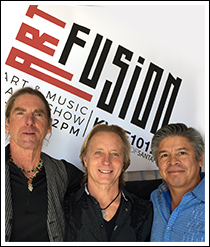 Every Thursday from noon to 1pm, you can:
Watch the show being taped LIVE! at the Artisan Santa Fe store.
Every Saturday from noon to 1pm, you can:
Listen to Art Fusion (recorded) on KTRC 1280 AM
You can also hear podcasts of past shows HERE. To read more about each artist and songwriter for upcoming shows, click on one of the shows listed below.
Nov 30 @ 11:00 am – 12:00 pm
11:00 am
Art Fusion: Broadcasting LIVE at Artisan Santa Fe, on Thursdays, 11AM to Noon. Listen on 1260 AM KTRC Saturdays at noon. This week: Visual Artist Barry McCuan & Singer/Songwriter Sydney Westan. About Barry McCuan: Every landscape has its own special timbre, harmonies of colors and textures....
We support some of the best artists in the world!
Artist of the Month
Arturo Chavez
"We took a field trip over to Arturo Chavez's studio/gallery to see what he was up to…come inside with us and take a peek….." 
~ Ron Whitmore
ABOUT ARTURO
"The human eye is far more sensitive to subtle variations in color than can be revealed in photographs. Knowing my subject matter firsthand helps me to convey feeling in my paintings."
Arturo Chavez was born in 1949 in Embudo, New Mexico near Taos. He was raised amid the spectacular vistas of Northern New Mexico. Chavez is dedicated to preserving the landscape by painting it. Chavez painted throughout his youth, but did not turn to art as a full-time career until the 1980s. Since then, he has received international recognition for his landscapes, which include exhibitions in the US embassies in Moscow, Croatia, and Guyana. Publicly, Chavez' works can be seen as part of the permanent collections at New Mexico State University, The Bernalillo County Courthouse, The Santa Fe Capitol Collection, the Taos National Guard, and the National Hispanic Cultural Center. His work is also in corporate collections around the world including Ebner International in Linz, Austria, Fuji Electric in Japan and the permanent collection of Burlington Northern Railway. Like many gifted artists, Chavez possesses many other talents.
He is a talented musician, having studied classical concert guitar at the University of New Mexico, as well as having worked as a mission pilot for the civil air patrol. Visit Arturo's website: www.ArturoChavez.com
Read the complete article 
HERE
.
Workshops, Free Demos & Various Events
ArtSpot
Artisan Events
There is lots going on all the time at Artisan! We offer free demos, paid workshops and more. To see all the events, click HERE!
Cartoon by Artisan customer, Vic Lee.
Cool Item
Of The Month
Artisan carries a lot of unique and/or one of a kind items. Here is one you might find interesting.

Exquisite, Hard-To-Find European Pads & Sketch Books
Bamboo Mixed Media
265gsm, 90% Bamboo fibre, 10% Cotton rag, Natural white
For watercolor, acrylic, pastel, sketch and mixed media. Acid-Free, natural white.
Pastel Velour Paper
260gsm, 9.36×12.48" pad, 10 sheet pad, 10 different colors
Painting Paper for pastel and oil pastel. Acid-Free, age-resistant. With 10 colors.
Nostalgie Hard Cover Sketch
190 gsm – natural white – 80 pages
Thread stitching makes for a solid binding and good flatness of the sheets. This also makes sure that double sided sketches and drawings across the fold too can be created without any problems. With an anthracite-coloured cover featuring a linen structure, the book is hard-wearing and nice to the touch.
Every book features 40 sheets / 80 pages. The heavy, natural white paper feels both solid and flexible. The fine grain of the paper makes the pen slide over the surface virtually on its own.
Clearly defined pen control and delicate hatchings allow for every kind of work – from the architectural sketch to the fast, vividly coloured draw.
Suitable for use with all dry-painting techniques in addition to wet colours, the paper brings a great sense of versatility and precision to the artistic process. Acid free, high longevity.
Sketch Diary
120gsm
A handy keepsake pocket, with 2 design-a-labels.
Watercolour Book
200gsm Hardbound
Natural white watercolor paper featuring a fine grained structure on both the front and backsides. Suitable for all the wet-painting techniques. Ideal for panoramas. Acid-free and with a high longevity.
Watercolour Postcards
30 sheets in Metal Tin / 230 gsm Rough surface
Skizze Sketch Papers
190gsm, 50 sheets/pad
Available at the Santa Fe store ONLY.
Question of the Month / Giveaway
This Month's Prize: "Hahnemühle Watercolour Book"
This month, we've got another monthly giveaway game in our newsletter. Email us your answer to our question of the month (by September 10th), and you will automatically be entered in the contest.
QUESTION:
How many 16″x20" mat boards you can get from 32″x40" mat board?
Email your answer to giveaway@artisan-santafe.com. One winner will be chosen. Winner must pick up the Watercolour Book at the Santa Fe store.

Happenings In Our Community
Check It Out!
There's a lot going on in our community. Here's a taste!

How About a Little Feedback?
Write a Review
We want to hear from our customers about how we're doing!
Tell us about your experience.
It's very important nowadays to have good Yelp & Google Reviews. We'd love for you to share your positive experiences at Artisan on Yelp or Google. These help other artists know where they can go for quality art materials.
Publish positive review on: YELP (Santa Fe store) | YELP (Albuquerque store) | GOOGLE
If your experience has not met your expectations, please tell us, so that we can fix it. We strive to improve our customer service, and your feedback is very important to us. Please send us an email HERE.
Songwriter Sunday
A lot of us up here at Artisan are also musicians, singers & songwriters. Here's how we feed our muse!
Sunday, September 3, 1:00 – 4:00pm
at the Santa Fe store
The first Sunday of every month is Songwriter Sunday here at Artisan, in the Artisan Performance Corner. If you're a songwriter, come on down with your guitar and 1-3 songs (if you tickle the ivories, a keyboard is provided). The Performance Corner has a great sound system! Mikey likes it…!
Write a song about the end of summer.