01 Oct

ARTeNews – October 2017
Ron's Palette
A Year From Now.
A year from now, I will be recovering from our 8th Artisan Materials Expo at Buffalo Thunder…in fact…I probably will be taking a needed vacation somewhere.
The last Expo event attracted over 3000 artists. The positive art energy at this event is unbelievable, and this one will be even larger and features 80 manufacturer booths of deeply discounted art materials, free demos and 120 three-hour and six-hour workshops. Even though the event is a year off…we are working everyday organizing the workshops from the 56 instructors, and lining up the roster of manufacturers. We are working to get all the 120 workshops up on ExpoArtisan.com by January 1st of 2018. We are also excited about the two national encaustic organizations holding their symposium again and offering a wide selection of encaustic classes.
We started this back in 2000 at the old Sweeney Convention Center featuring 40 booths of manufacturers and about 60 workshops. It outgrew that facility and this will be our fourth one at the Buffalo Thunder facility. Mark the date of September 28th through 30th, 2018…come be part of the fun and get your art spirit energized!
Namaste, Ron
Art Fusion Radio Schedule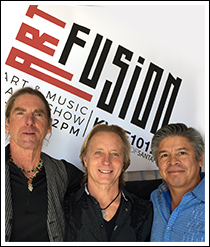 Every Thursday from noon to 1pm, you can:
Watch the show being recorded LIVE! at the Artisan Santa Fe store.
Every Saturday from noon to 1pm, you can:
Listen to Art Fusion (previously recorded) on AM 1260 KTRC
You can also hear podcasts of past shows HERE. To read more about each artist and songwriter for upcoming shows, click on one of the shows listed below.
Dec 14 @ 11:00 am – 12:00 pm
11:00 am
Art Fusion: Broadcasting LIVE at Artisan Santa Fe, on Thursdays, 11AM to Noon. Listen on 1260 AM KTRC Saturdays at noon. This week: Visual Artist Catherine Molland & Singer/Songwriters Max Hatt/Edda Glass. About Catherine Molland: The beginning of Catherine Molland's love of art began with a...
We support some of the best artists in the world!
Artist of the Month
George Rivera
"George Rivera is the ex-Governor of the Pojoaque Pueblo north of Santa Fe, but is now devoting himself full-time to his art. He invited us over to his beautiful studio on the top of a mountain north of town and gave us a tour of what he is up to…take a look!"  ~ Ron Whitmore
Workshops, Free Demos & Various Events
ArtSpot
Artisan Events
There is lots going on all the time at Artisan! We offer free demos, paid workshops and more. To see all the events, click HERE!
Cartoon by Artisan customer, Vic Lee.
Cool Item
Of The Month
Artisan carries a lot of unique and/or one of a kind items. Here is one you might find interesting.
The advanced design of Method Lights products makes lighting your art easy.
Artist Studio Lighting
Method Lights is the Ultimate Lighting Solution for Your Studio. Our products allow you to paint day or night with the Perfect Light!
Testimonial: "I use two method lights in my studio. One for my model, one for my easel. I like that I can dim the light or change from warm to cool, which makes for a great model light. Of course that is a wonderful benefit for painting as well." – Eric Rhoads, Publisher and Artist, Fine Art Connoisseur Plein Air Artist's On Art
Picture Lighting
The ML200 has custom LED technology that is super bright – as bright as a 50W bulb and all of that power is easily controlled by an advanced remote with simple, easy to use controls. The ML200 installs in minutes using our peel, stick and secure method. Simply peel off the removable adhesive tape, stick it your ceiling and secure it with supplied hardware.
PRICE: $275.00
Available at the Santa Fe store ONLY.
Question of the Month / Giveaway
This Month's Prize: 8″ x 10″ Picture Frame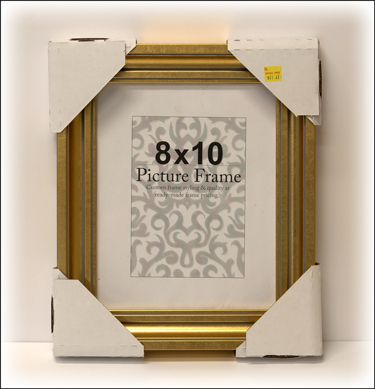 This month, we've got another monthly giveaway game in our newsletter. Email us your answer to our question of the month (by October 10th), and you will automatically be entered in the contest.
QUESTION:
"How long has Artisan been in Business?"
Email your answer to giveaway@artisan-santafe.com. One winner will be chosen. Winner must pick up the 8″ x 10″ Frame at the Santa Fe store.

Happenings In Our Community
How About a Little Feedback?
Write a Review
We want to hear from our customers about how we're doing!
Tell us about your experience.
It's very important nowadays to have good Yelp & Google Reviews. We'd love for you to share your positive experiences at Artisan on Yelp or Google. These help other artists know where they can go for quality art materials.
Publish positive review on: YELP (Santa Fe store) | YELP (Albuquerque store) | GOOGLE
If your experience has not met your expectations, please tell us, so that we can fix it. We strive to improve our customer service, and your feedback is very important to us. Please send us an email HERE.
Songwriter Sunday
A lot of us up here at Artisan are also musicians, singers & songwriters. Here's how we feed our muse!
Sunday, October 1, 1:00 – 4:00pm
at the Santa Fe store
The first Sunday of every month is Songwriter Sunday here at Artisan, in the Artisan Performance Corner. If you're a songwriter, come on down with your guitar and 1-3 songs (if you tickle the ivories, a keyboard is provided). The Performance Corner has a great sound system! Mikey likes it…!
Write a song about Autumn coming.