01 Nov

ARTeNews – November 2017
Ron's Palette
Heartfelt Thanks.
November is the month of giving thanks,  and — without sounding like a turkey — I would like give some heart felt thanks. Thanks to all of you customers for supporting Artisan as your local art material supplier for the last 42 years.
Our business has changed a lot since the old days back on Canyon Road. Amazon and other internet stores keep putting more and more local brick and mortar stores out of business. In this light, we thank you for your business and allowing us to remain open to serve you. Thank you to the original owners of Artisan — Bill Banta and Jack Young — for allowing myself and three other retail clerks to acquire Artisan after their deaths, and make a living doing what we enjoy! Thank you to our employees who strive so hard to make each customer have a satisfied experience and our business successful — we appreciate you and could not do it without you.
I could keep going but I bet by now you are thankful that I don't! Enjoy your Thanksgiving and remember that giving gratitude is an easy way to make whatever you have increase in value,  and whatever you are experiencing be a whole lot more special!
Namaste, Ron
Art Fusion Radio Schedule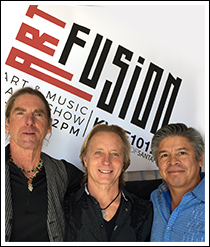 Every Thursday from 11am to noon, you can:
Watch the show being recorded LIVE! at the Artisan Santa Fe store.
Every Saturday from noon to 1pm, you can:
Listen to Art Fusion (previously recorded) on AM 1260 KTRC
You can also hear podcasts of past shows HERE. To read more about each artist and songwriter for upcoming shows, click on one of the shows listed below.
Nov 30 @ 11:00 am – 12:00 pm
11:00 am
Art Fusion: Broadcasting LIVE at Artisan Santa Fe, on Thursdays, 11AM to Noon. Listen on 1260 AM KTRC Saturdays at noon. This week: Visual Artist Barry McCuan & Singer/Songwriter Sydney Westan. About Barry McCuan: Every landscape has its own special timbre, harmonies of colors and textures....
We support some of the best artists in the world!
Artist of the Month
Annie O'Brien Gonzales
"Traveled to upper Canyon Road to visit the studio of Annie O'Brien Gonzales. Her studio was full of color and positive energy! Enjoy the visit.  ~ Ron Whitmore
Workshops, Free Demos & Various Events
ArtSpot
Artisan Events
There is lots going on all the time at Artisan! We offer free demos, paid workshops and more. To see all the events, click HERE!
Cartoon by Artisan customer, Vic Lee.
Cool Item
Of The Month
Artisan carries a lot of unique and/or one of a kind items. Here is one you might find interesting.
Question of the Month / Giveaway
This Month's Prize:
Set of 72 Triangular Colored Pencils & Johanna Basford Coloring Book
by Staedtler
This month, we've got another monthly giveaway game in our newsletter. Email us your answer to our question of the month (by November 10th), and you will automatically be entered in the contest.
QUESTION:
"What day does the Vendor floor open at Artisan Materials Expo 2018…?"
(Hint)
Email your answer to giveaway@artisan-santafe.com. One winner will be chosen. Winner must pick up the prize at the Santa Fe store.

Sales & Promotionals
You can find some good deals in this section. We're always coming up with something that will work with your pocketbook!
Happenings In Our Community
How About a Little Feedback?
Write a Review
We want to hear from our customers about how we're doing!
Tell us about your experience.
It's very important nowadays to have good Yelp & Google Reviews. We'd love for you to share your positive experiences at Artisan on Yelp or Google. These help other artists know where they can go for quality art materials.
Publish positive review on: YELP (Santa Fe store) | YELP (Albuquerque store) | GOOGLE
If your experience has not met your expectations, please tell us, so that we can fix it. We strive to improve our customer service, and your feedback is very important to us. Please send us an email HERE.
Songwriter Sunday
A lot of us up here at Artisan are also musicians, singers & songwriters. Here's how we feed our muse!
Sunday, November 5, 1:00 – 4:00pm
at the Santa Fe store
The first Sunday of every month is Songwriter Sunday here at Artisan, in the Artisan Performance Corner. If you're a songwriter, come on down with your guitar and 1-3 songs (if you tickle the ivories, a keyboard is provided). The Performance Corner has a great sound system! Mikey likes it…!
Write a song about gratitude.