28 Apr

ARTeNews – May 2017
Ron's Palette
Art Fusion Radio Show:  Now Supercharged!
Artisan's Art Fusion radio program on 101.5 FM or santafe.com on Thursdays at noon just got supercharged. We now have an Art Fusion race car in Indianapolis!
The program started as an idea to show the similarities of the process of making art and music and what better way to spread the word than a race car going around the track in Indianapolis. Actually… my son-in law, Jerry Hepworth, is a race car driver and was looking for a sponsor and why not spread the Santa Fe art scene to Indy? I have to laugh as the drivers he passes get to read, "Kiss my Art" on his back spoiler. The program has really caught fire here and I have to thank Scott Hutton at Hutton Broadcasting for accepting the show idea and letting me race with it. Come on down to our Santa Fe store and be a part of the live studio audience if you can every Thursday at noon…or just catch a podcast of your favorite artists and musicians on santafe.com.
Namaste, Ron
On Another Note…
Artisan's own, Dave Garner, has a graphic design and marketing business and has been managing Artisan's web site and marketing for years and now has a new toy . . . a drone. He wanted to practice his drone skills so we went out west of town with my dirt-bike to have some fun . . . and this is what transpired. Contact Dave if you need any video, photography or drone services (like real estate, events, etc.) . . . he is really a cool guy.  DG at ShebangCreative.com
Art Fusion Radio Schedule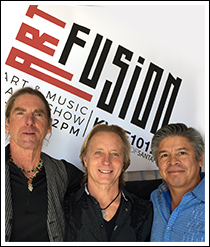 Every Thursday from noon to 1pm, you can:
Listen to Art Fusion live on KVSF 101.5 FM, or streaming live on the web HERE
Watch the show being broadcast LIVE! at the Artisan Santa Fe store.
You can also hear podcasts of past shows HERE. To read more about each artist and songwriter for upcoming shows, click on one of the shows listed below.
Nov 30 @ 11:00 am – 12:00 pm
11:00 am
Art Fusion: Broadcasting LIVE at Artisan Santa Fe, on Thursdays, 11AM to Noon. Listen on 1260 AM KTRC Saturdays at noon. This week: Visual Artist Barry McCuan & Singer/Songwriter Sydney Westan. About Barry McCuan: Every landscape has its own special timbre, harmonies of colors and textures....
We support some of the best artists in the world!
Artist of the Month
Dean Howell
"Never boring visiting the studio of artist Dean Howell. Dean is a passionate teacher and an artist who follows his instincts. The studio was packed with the creations of a very caring and creative mind…here…take a look inside!"  ~ Ron
About
Though not driven, or taken, to competitive/prestigious endeavors, Dean Howell, Ed. D, has impressive-enigmatic-credentials in a duel career as avant-garde artist and college professor. He has accumulated a fair share of achievements in spite of controversial points of view, bucking the odds, and sometimes, Bohemian lifestyle.
In 1972, he earned a Doctorate in Sculpture, Psychology, and Art Education-with a dissertation in "perception and brainwave activity". At the height of his academic career in 1978-after publishing his first paper, Sensuality: The Undercover Struggle in the Making of Art, in the National Art Education Journal-he resigned his position at Virginia Commonwealth University, in favor of becoming a full-time, producing artist. Until now, he has vigorously explored the art world as artist, lecturer, and educator, at large… without an emphasis on writing.
The Work
At the time of his resignation from full-time teaching at the university level in 1978, artist, Dean Howell, had just begun to publish academic papers, and creative stories dramatizing the nature of art & the human spirit. His topics, titles, and writing style had a blistering affect on his collogues & students-as well as traditional thinking in Arts Education throughout the country. With titles like, "Sensuality: The Undercover Struggle in the Making of Art", "The Still Life of Normality", and "Love in the Twentieth Century," his papers paved the way for innovative curriculum and non-traditional forms of Arts Education at major art schools around the country.
Workshops, Free Demos & Various Events
ArtSpot
Artisan Events
There is lots going on all the time at Artisan! We offer free demos, paid workshops and more. To see all the events, click HERE!
Cool Item
Of The Month
Artisan carries a lot of unique and/or one of a kind items. Here is one you might find interesting.
Designed to Work With 7/8″ and 1 1/2″ Cradles, 3/4″ Canvas and Flat Panels!
Floaterframe is the only do-it-yourself frame specifically designed for wood panels. Other frames on the market often damage the wood panel, are difficult to attach, and are rarely the correct profile. After years of receiving inquiries from artists struggling with existing frames, Ampersand focused on developing the perfect solution to frame artwork created on a wood cradled panel. Floaterframes are designed to fit 7/8″ and 1.5″ cradles, 3/4″ canvas and flat panels!
Made with premium hardwood, the quality of floaterframe is immediately evident. Every detail has been designed and engineered to give you a simple, all-in-one framing solution that protects your artwork while giving it the finished look it richly deserves.
Wider Base, Deeper Rabbet, Countersunk Holes
The expanded frame base allows you to attach the artwork in the center of the panel cradle frame. This minimizes the damage to your artwork that can occur with conventional frames.
The deeper rabbet provides the perfect depth to position the face of your artwork just below the frame edge for 7/8" and 1½" profile artwork. This protects your artwork while displaying it at its best.
Pre-drilled countersunk holes ensure that your artwork attaches easily to the frame and allows it to hang flush against the wall.
So Easy to Use!
Everything you need to frame and hang your artwork is included! Each frame comes with wood screws, hanging hook, nail, 20 lb. hanging wire, bumper pads, small screw eyes and risers for flat panels, 3/4" panels and canvas*.
Insert your artwork into the floaterframe using spacers to evenly align.
Attach your artwork to the frame with the screws provided. (Pre-drilling pilot holes is recommended)
Attach screw eyes, wire and hang!
Available in both Santa Fe & Albuquerque store.

Happenings In Our Community
Check It Out!
There's a lot going on in our community. Here's a taste!

 
Enjoy a world class art show featuring the best of the best in the pastel medium and shop the Trade Show at the same time – All FREE and OPEN to the PUBLIC
The International Association of Pastel Societies (IAPS) holds a biennial Convention at Hotel Albuquerque, New Mexico.In conjunction with the convention, IAPS hosts two events that are FREE and open to the Public during the convention. The SOLDOUT 12th Biennial Convention will be held in June and will welcome over 600 participants from around the world.
PASTELWORLD
PastelWorld is an exhibition featuring the best of the best in the pastel medium from around the world. Over 1000 entries were received from pastel artists in this prestigious juried art competition. Approximately 200 paintings will be on display. These include award winners in the organization's Master Circle competition as well as the general membership, and works from the judges and convention instructions. Truly an opportunity to enjoy the best in the medium all, under one roof.
TRADE SHOW
Additionally, the convention Trade Show featuring dozens of vendors who specialize in materials and supplies for the pastel artist will take place inside Hotel Albuquerque. It is free and open to the public. Not only will visitors be able to see the latest supplies and materials available, but also many special demonstrations by artists within the medium will take place during the Trade Show.
PastelWorld will be open to the public
Thursday, June 8 – Saturday, June 11 from 9am – 9pm
The Trade Show will be open to the public Thursday, June 8 – Saturday, June 11 from 10 am – 5 pm
IAPS is a non-profit organization dedicated to demonstrating the value, validity, and enduring quality of pastel artworks, as well as to creating educational possibilities for the appreciation of this luminous medium. Founded in 1994, IAPS is the only organization in the world that provides membership, communication and conference opportunities for regional and national art societies devoted solely to the medium of pastel.
How About a Little Feedback?
Write a Review
We want to hear from our customers about how we're doing!
Tell us about your experience.
It's very important nowadays to have good Yelp & Google Reviews. We'd love for you to share your positive experiences at Artisan on Yelp or Google. These help other artists know where they can go for quality art materials.
Publish positive review on: YELP (Santa Fe store) | YELP (Albuquerque store) | GOOGLE
If your experience has not met your expectations, please tell us, so that we can fix it. We strive to improve our customer service, and your feedback is very important to us. Please send us an email HERE.
Songwriter Sunday
A lot of us up here at Artisan are also musicians, singers & songwriters. Here's how we feed our muse!
Sunday, May 7, 1:00 – 4:00pm
at the Santa Fe store
The first Sunday of every month is Songwriter Sunday here at Artisan, in the Artisan Performance Corner. If you're a songwriter, come on down with your guitar and 1-3 songs (if you tickle the ivories, a keyboard is provided). The Performance Corner has a great sound system! Mikey likes it…!
Write a song about May showers, if we ever get them!!