01 Jun

ARTeNews – June 2017
Ron's Palette
If you're a pastelist, listen up!!
I love the Spring with all these beautiful pastel colors popping out just in time for the International Association of Pastel Societies Convention in Albuquerque. This show is a biennial get together of all the pastel associations from around the world at the Hotel Albuquerque on Thursday, June 8th, Friday, June 9th and Saturday, June 10th. The vendor floor consists of thirty-five vendor booths selling pastel related materials at fantastic prices.  The vendor floor is free admission and open 10 AM to 5 PM. Please come on down if you are interested in pastels and see the largest selection of materials in one place and be able to talk to the manufacturers about their products…bet there's a color you have never seen before!
Namaste, Ron
Art Fusion Radio Schedule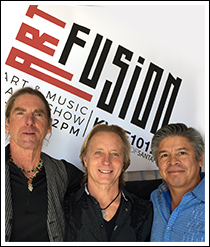 Every Thursday from noon to 1pm, you can:
Listen to Art Fusion live on KVSF 101.5 FM, or streaming live on the web HERE
Watch the show being broadcast LIVE! at the Artisan Santa Fe store.
You can also hear podcasts of past shows HERE. To read more about each artist and songwriter for upcoming shows, click on one of the shows listed below.
Dec 14 @ 11:00 am – 12:00 pm
11:00 am
Art Fusion: Broadcasting LIVE at Artisan Santa Fe, on Thursdays, 11AM to Noon. Listen on 1260 AM KTRC Saturdays at noon. This week: Visual Artist Catherine Molland & Singer/Songwriters Max Hatt/Edda Glass. About Catherine Molland: The beginning of Catherine Molland's love of art began with a...
We support some of the best artists in the world!
Artist of the Month
Pablo Antonio Milan
"Out of deepest sympathy for his unexpected death on May 3, 2017, Artisan is featuring Pablo Antonio Milan as our Artist of the Month. Pablo has been coming into Artisan since the beginning — way back on Canyon Road. We waited on him for supplies, stretched his canvas and laughed with him many times over the years. Pablo will be greatly missed at Artisan and his legacy will live through his daughters and family that loved him, his friends and the art that he created while he was still on this earth. Rest in Peace dear friend! "  ~ Ron
About
Pablo Antonio Milan, a recognized Southwest contemporary artist, is renowned for his use of bright colors and his acrylic painting techniques, from delicate and bold washes, layering and splattering of paints and powerful brushstrokes and palette knife.
Milan was accepted into his first gallery at 17, and now at age 55, is in both private and corporate collections throughout the world. He has exhibited in galleries from Florida to Texas, New Mexico, Colorado, Arizona, Nevada and California.
The Work
An expressionistic colorist, Milan first layers the paint, at times painting 25 layers on the canvas, only adding the imagery in the final stages. "This gives the paintings depth and the appearance of changing colors throughout the day, depending on the light," Milan said. "Layering also allows the colors to really pop under the lights of night."
A prominent and recognized artist, Milan's paintings are viewed as highly collectible. His distinctive contemporary edge, both in color and style, evolve into a mystical illusion of imagery from the Southwest.
Workshops, Free Demos & Various Events
ArtSpot
Artisan Events
There is lots going on all the time at Artisan! We offer free demos, paid workshops and more. To see all the events, click HERE!
Cool Item
Of The Month
Artisan carries a lot of unique and/or one of a kind items. Here is one you might find interesting.
Princeton Brush: NOW Always 40% OFF!

About Princeton Artist Brush Company & NextGen Lines!
Princeton Artist Brush Company is the largest artist brush supplier in North America. Over 25 years ago, Howard Kaufman began a small brush business in the basement of his home in Princeton, New Jersey. He believed that by focusing on innovation, value and the best service, he would always have an appreciative audience for his products. Princeton owns a brush factory with Naohide Takamoto, a 5th generation brush maker. As Naohide Takamoto's grandfather invented Golden Taklon, Naohide has continued the Takamoto legacy with Princeton's Next-Gen Synthetics that out perform natural hair for a fraction of the price! These ranges include Neptune, Catalyst Polytip, Elite, Summit and most recently Velvetouch brushes.
Neptune Series – New at Santa Fe store!
When we set out to create a synthetic version of squirrel, we developed a brush that may actually outperform the natural version. Neptune™ is our softest and thirstiest synthetic brush, delivering oceans of color. Experts in natural hair have been incredulous that this is actually synthetic. We are proud to offer Neptune™ in a beautiful range of shapes including mottlers and quills with rich wood tones and sea glass aquarelle handles.
Check either store for availability of all other Princeton Brushes.

Happenings In Our Community
Check It Out!
There's a lot going on in our community. Here's a taste!

 
Enjoy a world class art show featuring the best of the best in the pastel medium and shop the Trade Show at the same time – All FREE and OPEN to the PUBLIC
The International Association of Pastel Societies (IAPS) holds a biennial Convention at Hotel Albuquerque, New Mexico.In conjunction with the convention, IAPS hosts two events that are FREE and open to the Public during the convention. The SOLDOUT 12th Biennial Convention will be held in June and will welcome over 600 participants from around the world.
PASTELWORLD
PastelWorld is an exhibition featuring the best of the best in the pastel medium from around the world. Over 1000 entries were received from pastel artists in this prestigious juried art competition. Approximately 200 paintings will be on display. These include award winners in the organization's Master Circle competition as well as the general membership, and works from the judges and convention instructions. Truly an opportunity to enjoy the best in the medium all, under one roof.
PastelWorld will be open to the public
Thursday, June 8 – Saturday, June 10 from 9am – 9pm
TRADE SHOW
Additionally, the convention Trade Show featuring dozens of vendors who specialize in materials and supplies for the pastel artist will take place inside Hotel Albuquerque. It is free and open to the public. Not only will visitors be able to see the latest supplies and materials available, but also many special demonstrations by artists within the medium will take place during the Trade Show.
The Trade Show will be open to the public Thursday, June 8 – Saturday, June 10 from 10 am – 5 pm
IAPS is a non-profit organization dedicated to demonstrating the value, validity, and enduring quality of pastel artworks, as well as to creating educational possibilities for the appreciation of this luminous medium. Founded in 1994, IAPS is the only organization in the world that provides membership, communication and conference opportunities for regional and national art societies devoted solely to the medium of pastel.
How About a Little Feedback?
Write a Review
We want to hear from our customers about how we're doing!
Tell us about your experience.
It's very important nowadays to have good Yelp & Google Reviews. We'd love for you to share your positive experiences at Artisan on Yelp or Google. These help other artists know where they can go for quality art materials.
Publish positive review on: YELP (Santa Fe store) | YELP (Albuquerque store) | GOOGLE
If your experience has not met your expectations, please tell us, so that we can fix it. We strive to improve our customer service, and your feedback is very important to us. Please send us an email HERE.
Songwriter Sunday
A lot of us up here at Artisan are also musicians, singers & songwriters. Here's how we feed our muse!
Sunday, June 4, 1:00 – 4:00pm
at the Santa Fe store
The first Sunday of every month is Songwriter Sunday here at Artisan, in the Artisan Performance Corner. If you're a songwriter, come on down with your guitar and 1-3 songs (if you tickle the ivories, a keyboard is provided). The Performance Corner has a great sound system! Mikey likes it…!
Write a song about May showers, if we ever get them!!