01 Jul

ARTeNews – July 2017
Ron's Palette
Gives "Shopping Cart" a 'Whole' New Meaning
I just read that Amazon has bought Whole Foods in order to make a dent in Walmart.
I can't quite figure out that logic, but I'm sure it has to do with the new trend of buying your groceries online. Walmart then announced it bought Bonobos as its latest online company purchase in their strategy against Amazon. Amazon has already destroyed Borders and many other brick and mortar stores so why not go after Walmart. Walmart has also destroyed a lot of other retailers when they open up in small towns. I hate being negative but this trend of getting everything from Amazon and Walmart is a bit scary. I guess I am still one of those old fashioned type of shoppers that like to go into a store and see things and then support the retailer who has them and showed them to me.
As Amazon grows in power, it will continue to dictate what products succeed and which fall by the way side. They cherry-pick the most popular items from a manufacturer's product line, sell them cheap and in great volume, and the rest of the product offering falls away and then is discontinued or unavailable.
I hope the new generation has the consciousness to realize that if you don't support local business…it goes away. When it goes away, so does a lot of the tax base for cities to offer programs for youth, art installations, and many of the other "fluff" programs we all benefit from. Our society continues to head in the direction of "fast and cheap" without thinking that this has a price to pay as well.
On the positive side…Amazon has bigger brothers in India and China that are probably figuring out ways to put dents in Amazon…so Amazon is opening up some brick and mortar stores…go figure?
Namaste, Ron
Art Fusion Radio Schedule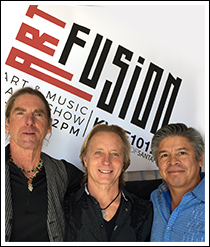 Every Thursday from noon to 1pm, you can:
Listen to Art Fusion live on KVSF 101.5 FM, or streaming live on the web HERE
Watch the show being broadcast LIVE! at the Artisan Santa Fe store.
You can also hear podcasts of past shows HERE. To read more about each artist and songwriter for upcoming shows, click on one of the shows listed below.
Nov 30 @ 11:00 am – 12:00 pm
11:00 am
Art Fusion: Broadcasting LIVE at Artisan Santa Fe, on Thursdays, 11AM to Noon. Listen on 1260 AM KTRC Saturdays at noon. This week: Visual Artist Barry McCuan & Singer/Songwriter Sydney Westan. About Barry McCuan: Every landscape has its own special timbre, harmonies of colors and textures....
We support some of the best artists in the world!
Artist of the Month
Glenn Strock
"This month we visited Glen at the site of his latest project, and spoke to him about the challenges he faced in the creation of this wonderful piece of artwork. Be sure to take a drive to see the artwork in person, on the Santa Fe County Human Resources Office at the Solana Center on West Alameda."  ~ Ron
ABOUT
Glen Strock is an artist living in New Mexico.
THE WORK
(from an article in the Santa Fe New Mexican)
WATCH VIDEO
Artist Glen Strock wanted to show how New Mexico's cultures can come together in a spirit of compassion. But some people saw just the opposite. Strock, 69, signed on to paint a mural this fall in conjunction with Santa Fe County Teen Court, a remediation program for juvenile offenders. The mural has been vandalized and criticized. As a result, changes are being made.
It is the latest front in an ongoing local battle over how to acceptably depict Colonial New Mexico, a time of conflict between the Spanish and Native Americans, in public art. The mural, black on the white-and-beige exterior of the Santa Fe County Human Resources Office on West Alameda Street, shows a Spaniard on horseback. A Native boy sits before the horse, a cross of reeds in one hand. The Spaniard's unsheathed sword looms above him. The sword since has been whited out. The mural's overseers decided to change course last week, bowing to the public backlash that spanned a spectrum of displeasure, said Jennifer Romero, manager of the Teen Court, which is responsible for the commission and creation of the mural.
Read the complete article 
HERE
.
Workshops, Free Demos & Various Events
ArtSpot
Artisan Events
There is lots going on all the time at Artisan! We offer free demos, paid workshops and more. To see all the events, click HERE!
Cool Item
Of The Month
Artisan carries a lot of unique and/or one of a kind items. Here is one you might find interesting.
Bill Worrell's CD and Pad: Free Shipping thru July!
Bill Worrell "Handing It Over" CD: $20
Bill Worrell is a man of many talents…writing, sculpting, jewelry, painting, clay throwing and singing and songwriting. He has come out with a new album recorded at his own recording studio…Rough, Raw and Real Records. This album is 17 songs and is titled "Handing It Over". This album is classic Worrell in an uplifting, humorous way, how only Worrell sees the world! Available at Artisan for $20.00 Free Shipping thru July!
Bill Worrell Pad: $15
Bill Worrell has been an inspiration to me ever since he walked through the doors of our Canyon Road store over 25 years ago. His creativity is endless. He expresses himself in everything he does, from small ceramic bowls to monumental bronzes. He is constantly writing…books, songs, poems or just creative ideas. He encouraged me to keep a journal years ago, and it has changed my life (or at least documented it). I hope this journal propagates the magic, mystery and music hidden in your soul, and may your journey be well recorded. Namaste, Ron. You can purchase the pad HERE.
Check either store for availability.
Question of the Month / Giveaway
This Month's Prize: Kiss An Artist Pad (6″ x 8″)
This month, we're starting a new monthly giveaway game in our newsletter. Email us your answer to our question of the month, and you will automatically be entered in the contest.
QUESTION:
Which is a more 'opaque' white…Zinc or Titanium?
Email your answer to giveaway@artisan-santafe.com. One winner will be chosen. Winner must pick up the pad at the Santa Fe store.

Happenings In Our Community
How About a Little Feedback?
Write a Review
We want to hear from our customers about how we're doing!
Tell us about your experience.
It's very important nowadays to have good Yelp & Google Reviews. We'd love for you to share your positive experiences at Artisan on Yelp or Google. These help other artists know where they can go for quality art materials.
Publish positive review on: YELP (Santa Fe store) | YELP (Albuquerque store) | GOOGLE
If your experience has not met your expectations, please tell us, so that we can fix it. We strive to improve our customer service, and your feedback is very important to us. Please send us an email HERE.
Songwriter Sunday
A lot of us up here at Artisan are also musicians, singers & songwriters. Here's how we feed our muse!
Sunday, July 2, 1:00 – 4:00pm
at the Santa Fe store
The first Sunday of every month is Songwriter Sunday here at Artisan, in the Artisan Performance Corner. If you're a songwriter, come on down with your guitar and 1-3 songs (if you tickle the ivories, a keyboard is provided). The Performance Corner has a great sound system! Mikey likes it…!
Write a song about Independence Day!! Not to be confused with In Depends Day. Something else entirely.