28 Dec

ARTeNews – January 2018
Ron's Palette
A Canvas Full of Color
I guess the New Year is a time when we all look inside a bit, give thanks that we already have a canvas full of color to start with, and set goals for what we want to see happen in the upcoming blank canvas. So let's start with some fun goals for Artisan:
To Provide a unique shopping experience along with competitive prices so our customers stay shopping with us and we put Amazon and internet out of business!
To Improve our selection, service and stores constantly, to create a shopping experience so interesting that the zoo train starts stopping at Artisan.
To make the Artisan Materials Expo in September the best ever! We are offering 120 incredible workshops, filling all 80 vendor booths with stuff artists really want at great prices, and will be setting an example of showmanship that will bring the Olympics to Santa Fe!
To continue having fun doing all that we do in our stores: free demos, workshops, yoga class, radio program, life drawing and Art Educators night — and all the fun that we hope you're having with our newsletters!
Now, what is all that color already on my canvas? Well, I have been working with the same partners for 29 years,  I have employees that have been with Artisan over 20 years and really care about making sure the customers are happy, and we have the best customers that have supported us for the past 42 years…my canvas runneth over!
Namaste,
Ron
Art Fusion Radio Schedule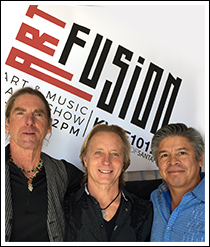 Every Thursday from 11am to noon, you can:
Watch the show being recorded LIVE! at the Artisan Santa Fe store.
Every Saturday from noon to 1pm, you can:
Listen to Art Fusion (previously recorded) on AM 1260 KTRC
You can also hear podcasts of past shows HERE. To read more about each artist and songwriter for upcoming shows, click on one of the shows listed below.
Jan 18 @ 11:00 am – 12:00 pm
Jan 25 @ 11:00 am – 12:00 pm
11:00 am
Art Fusion: Broadcasting LIVE at Artisan Santa Fe, on Thursdays, 11AM to Noon. Listen on 1260 AM KTRC Saturdays at noon. This week: Visual artist George Rivera & Singer/Songwriter Kristina Huckabee. About George Rivera: George Rivera, Recent Governor of the Pueblo of Pojoaque in northern New...
We support some of the best artists in the world!
Artist of the Month
Geoffrey Gorman
"This month we visited Geoffrey Gorman's studio in Artisan's neighborhood. His studio is packed with found objects and has a real cool vibe. We hope you enjoy the show."  ~ Ron Whitmore
Workshops, Free Demos & Various Events
ArtSpot
Artisan Events
There is lots going on all the time at Artisan! We offer free demos, paid workshops and more. To see all the events, click HERE!
Cool Item
Of The Month
Artisan carries a lot of unique and/or one of a kind items. Here is one you might find interesting.
Quick Dry for Oil Paintings
by Krylon
This spray medium increases the oxidation rate of oil paints, so that they will dry 2 to 3 times faster. It can be used at any stage of the creation process. Contains UV light absorbers and stabilizers.
SALE PRICE: $11.38 (10% off Artisan's already discounted price – thru January 11th)
(MSRP $16.85)
Available at both Santa Fe & Albuquerque stores.

In Passing
We will greatly miss these two artists.

David Solomon
It was a dark day at Artisan when we heard that David Solomon had passed. David used to work for Artisan back on the Canyon Road days as a sales clerk. David then came up with the idea of "The Bang Gallery" which utilized the workshop space we had on Canyon Road as a "pop up" gallery on the weekends. David curated many shows with this concept and helped promote a wide range of art. David went on to work for several galleries in town and was always involved in the Santa Fe art scene. David will be greatly missed by all that knew him. ~ Ron Whitmore
(From Wikipedia)
David Solomon (born 1976 in Kingston, New York) is an American artist and painter.
Solomon studied at the San Francisco Art Institute. Solomon is an artist living and working in Santa Fe's art community; his work has been shown in many exhibitions and art fairs across the country, including David Richard Contemporary, Gerald Peters Gallery in Santa Fe, Peter Marcelle Gallery in Bridgehampton NY, Dean Jenson Gallery in Milwaukee, and Brown Art Space in San Francisco.
"David Solomon has been an active member of the Santa Fe art community for the 11 years he has lived here, as both a painter and an independent curator," writes Jan Ernst Adlmann in Art in America magazine. "His latest exhibition demonstrated not only his artistic maturity but also his consistent drive toward pictorial originality." "Solomon continues to map inner territories of the imagination through an idiosyncratic synthesis of figurative inferences and abstract expression," writes Jon Carver, Art Ltd Magazine. "The artist's forte is the depiction of space without defining it," writes Kathryn M Davis in The Magazine. "He likes to suggest dimensionality without showing it, thus enticing the viewer to engage. Once the vocabulary of lyrical abstraction and symbolism emerges, the playfulness of the forms becomes clearer, while their significance deepens."
James Mahan
Artist. Professional. James worked at Artisan for years as a salesperson, then as a greeter, as his disabilities dictated. He always kept a positive attitude and spirit through all of his trials. He is an inspiration and will be missed greatly.  ~ Ron Whitmore
(from James)
"I am a primal ink artist and ex-Boston punk legend. I self-publish zines of my dark art and record solo vocal music. I live outside Boston and enjoy spicy food, pizza, and creating mayhem."
"I never start my obsessive ink drawings with an idea. I pick a place on the paper to start and the ink just takes over. Hours later a drawing emerges and I give it a name. I listen to loud and aggressive music while I draw. Art is my catharsis and my way to share the darkness."
How About a Little Feedback?
Write a Review
We want to hear from our customers about how we're doing!
Tell us about your experience.
It's very important nowadays to have good Yelp & Google Reviews. We'd love for you to share your positive experiences at Artisan on Yelp or Google. These help other artists know where they can go for quality art materials.
Publish positive review on: YELP (Santa Fe store) | YELP (Albuquerque store) | GOOGLE
If your experience has not met your expectations, please tell us, so that we can fix it. We strive to improve our customer service, and your feedback is very important to us. Please send us an email HERE.