01 Dec

ARTeNews – December 2017
Ron's Palette
December Already?
Hard to believe we are all closing out another year…I really do think time speeds up as we get older.
Artisan is now 42 years in business, and I have been with Artisan 29 of those years, about 20 as one of the owners. My partners (like myself) all started as retail clerks working together at the front counter on Canyon Road. Our business has changed a lot from the old days back when we operated out of a rambling adobe building with a dirt parking lot with six spaces. Back then we had accounts in a cardboard box under the front counter for many of the local artists, didn't need to take Mastercard or Visa, there was no internet, our floor was slowly falling into the basement and it flooded every time it rained. I used to pick out stretcher bars for Tom Lovall, carry out gesso for Agnes Martin, wrap paper for R. C Gorman, cut canvas for Fritz Scholder and make prints for Clark Hulings (just to drop a few names). Georgia O'Keeffe used to shop in our store before my time, and — according to the original owners, Bill and Jack — was not an easy customer to make happy (enough said).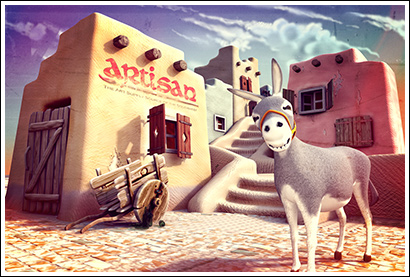 It would be easy to think of those as the "Good Ole Days" but the "Good Ole Days" are still here. The names have changed, but the spirit of the artist — that has kept my partners and myself a part of Artisan for so many years — has not. I still get to rub shoulders with some of the best artists in the world that continue to come through our front door (and some are easy to make happy and some are still not). We now have art classes in the store, a python, life drawing, a radio show, a yoga class, free demonstrations, and the Artisan Materials Expo at Buffalo Thunder coming up. Artisan has an internet presence, takes M/C, Visa, AMEX and Discover, has a loyalty program, offers giclee printing, custom canvas stretching and something the internet absolutely, positively, no way in the world can offer…an honest, old-fashioned shopping experience with REAL people!
We hope you have a blessed, non-stressed holiday season, and please know that we appreciate you for keeping our business viable all these years!
Namaste, Ron
Art Fusion Radio Schedule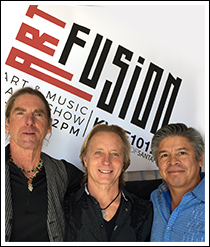 Every Thursday from 11am to noon, you can:
Watch the show being recorded LIVE! at the Artisan Santa Fe store.
Every Saturday from noon to 1pm, you can:
Listen to Art Fusion (previously recorded) on AM 1260 KTRC
You can also hear podcasts of past shows HERE. To read more about each artist and songwriter for upcoming shows, click on one of the shows listed below.
Dec 14 @ 11:00 am – 12:00 pm
11:00 am
Art Fusion: Broadcasting LIVE at Artisan Santa Fe, on Thursdays, 11AM to Noon. Listen on 1260 AM KTRC Saturdays at noon. This week: Visual Artist Catherine Molland & Singer/Songwriters Max Hatt/Edda Glass. About Catherine Molland: The beginning of Catherine Molland's love of art began with a...
We support some of the best artists in the world!
Artist of the Month
Rose Masterpol
"This month we visited the beautiful studio of Rose Materpol. She gave us a wonderful tour, and we were overwhelmed with her artwork. We hope you enjoy the show."  ~ Ron Whitmore
Workshops, Free Demos & Various Events
ArtSpot
Artisan Events
There is lots going on all the time at Artisan! We offer free demos, paid workshops and more. To see all the events, click HERE!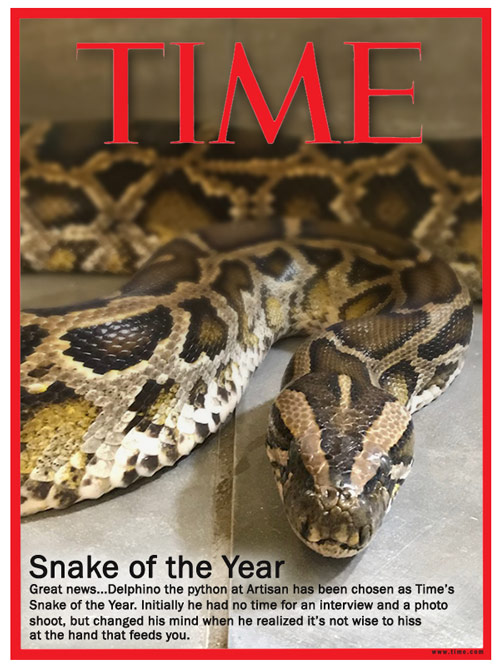 Cool Item
Of The Month
Artisan carries a lot of unique and/or one of a kind items. Here is one you might find interesting.

Happenings In Our Community
Check It Out!
There's a lot going on in our community. Here's a taste!

A local employee at Artisan Santa Fe, Anastasio Wrobel, has made t-shirts for the holidays with an image from their project The Non-BInary Coloring Book. Anastasio's work is focused on gender neutral education and inclusivity. You can get a t-shirt online at https://tinyurl.com/ycjbdo6z. They are currently showing work at Iconik Coffee on Lena St. with Niomi Fawn's Dark Nights of Winter Show Group Show and prepping for engagements at The Betterday Coffeeshop in January 2018 & Art.i.fact Santa Fe in February 2018. For more information visit www.aungrobo.us.
How About a Little Feedback?
Write a Review
We want to hear from our customers about how we're doing!
Tell us about your experience.
It's very important nowadays to have good Yelp & Google Reviews. We'd love for you to share your positive experiences at Artisan on Yelp or Google. These help other artists know where they can go for quality art materials.
Publish positive review on: YELP (Santa Fe store) | YELP (Albuquerque store) | GOOGLE
If your experience has not met your expectations, please tell us, so that we can fix it. We strive to improve our customer service, and your feedback is very important to us. Please send us an email HERE.
Songwriter Sunday
A lot of us up here at Artisan are also musicians, singers & songwriters. Here's how we feed our muse!
Songwriter Sunday is taking a break!!
Songwriter Sunday is on hold until further notice. But keep practicing…and writing…!!!
Happy Holidays to everyone!!