29 Mar

ARTeNews – April 2017
Ron's Palette
Vote Local: Here to Stay, Despite the Internet
Sometimes I feel like Artisan is the greatest remaining retail art supply store in the world, and sometimes I feel like we are holding on to a dinosaur's tail. Artisan is now the only remaining brick and mortar fine art store in both Santa Fe and Albuquerque…there used to be six fine art stores.
Retail has definitely changed, and changing more and more everyday. Amazon and discount internet sites are putting store after store after store out of business, as people use the internet to access goods. Langell's closed in Albuquerque after John Langell showed a mat-cutter for an hour to a customer who then thanked him and took their phone and ordered it as cheap as possible on the internet. Valdes closed here in Santa Fe as John Valdes threw in the towel with art supplies and decided one-of-a-kind antiques would be a better future than battling internet competition. His closing also closed down all the workshops and art instruction he was making available to students, and all the revenue he was providing to art instructors.
We battle the same battle everyday at our two retail stores in New Mexico with customers accessing art products from out of state using online providers. Artisan had to close in Taos because of the internet, and many of the Taos customers still talk about the hole it left in the community. Our business continues to hold on as we continue to support the community, by:
offering the best prices we can, while still hiring local artists,
fund many local art tours,
donate to schools,
provide art scholarship awards to students,
pay all the local taxes which fund schools and roads,
provide vacation and health insurance to our full-time employees,
plus, we promote local artists:

through our live weekly radio show
on our website with our monthly e-newsletter (we've got over 5,000 followers)
with art workshops in our store
I am thankful many of our customers enjoy a "shopping experience" and value a knowledgeable art staff that assists and informs them about what they are looking for. I have been doing this brick and mortar retail thing for over 28 years and have seen all the changes and am not sticking my head in the sand and pretending things are not changing. I just need to vent now and then and remind people that every dollar they spend is a vote on what they want to see continue. If you want the cheapest…yah the internet is there…if you want value in community…shop local.
Thank you to our loyal customers that have kept us going for over 41 years…you are the reason we keep our doors open and don't think the final word has to be ".com".
Namaste, Ron
Art Fusion Radio Schedule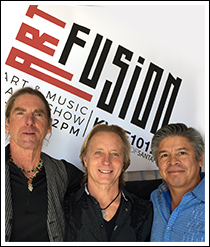 Every Thursday from noon to 1pm, you can:
Listen to Art Fusion live on KVSF 101.5 FM, or streaming live on the web HERE
Watch the show being broadcast LIVE! at the Artisan Santa Fe store.
You can also hear podcasts of past shows HERE. To read more about each artist and songwriter for upcoming shows, click on one of the shows listed below.
Dec 14 @ 11:00 am – 12:00 pm
11:00 am
Art Fusion: Broadcasting LIVE at Artisan Santa Fe, on Thursdays, 11AM to Noon. Listen on 1260 AM KTRC Saturdays at noon. This week: Visual Artist Catherine Molland & Singer/Songwriters Max Hatt/Edda Glass. About Catherine Molland: The beginning of Catherine Molland's love of art began with a...
We support some of the best artists in the world!
Artist of the Month
Donald Rubinstein
"Had a fun trip out to Donald Rubenstein's art and music studio north of Santa Fe. Donald is both an accomplished musician as well as a visual artist and his studio was a perfect blend of his artistic passions… contained by walls…walls that don't exist in Donald's creative mind…come on inside! And after you watch the video, here's the link to Donald's 'short, weird films' he mentioned in the video. Click on "Film", then scroll to the bottom of the page. Available only till April 30th."
About
DONALD RUBINSTEIN, composer, songwriter and interdisciplinary artist, made his musical debut at age 25 composing the score for George A. Romero's cult classic, feature film, Martin. It was named one of the "Top 100 Coolest Soundtracks of All Time" by Mojo magazine (2002). Since then his work has included 27 CDs of original music, numerous film and television scores, three large-scale multi-media performance works, four books of poetry, and a recent directorial spate of seventeen, short, experimental films.
Donald Rubinstein was awarded a fellowship and residency, via nomination, from The Robert Rauschenberg Foundation in 2014. He has been exhibited at The Museum of Modern Art, The Whitney Museum of American Art, and in multiple one-person gallery exhibitions. His most recent experimental film, "Cold City Heaven," premiered at the Angelika Theater in Dallas in October 2016. There are two new Rubinstein CDs slated for release in 2017.
SELECTED QUOTES
"For sheer variety and entertainment, Donald Rubinstein's novel, unpredictable one-man show is hard to match…stunning, house-shaking, hauntingly beautiful." LA Weekly
"If I were a smarter human being I would now invent a word that would explain exactly how freakin' cool and original in thought and execution Donald Rubinstein is with his music. His prolific discography is something you should take the time to explore, to discover the genius landscape that Donald Rubinstein has sculpted over the last few decades…This is the first time I ever used the word "important" to describe an album. You need to hear these songs." Adobe Airstream
Workshops, Free Demos & Various Events
ArtSpot
Artisan Events
There is lots going on all the time at Artisan! We offer free demos, paid workshops and more. To see all the events, click HERE!
Cool Item
Of The Month
Artisan carries a lot of unique and/or one of a kind items. Here is one you might find interesting.
French Easel Spring Sale, by Mabef
Mabef French Easel, either Full size OR Half size, at the low, low price of  $199.95.  Sale through April 30th.
Made in Italy with oiled beechwood and brass hardware.
Full Size: This 13 lb. easel has a tin-lined sliding accessory drawer with four compartments. A wooden palette acts as a cover when the easel is folded up for transport. Ideal for both watercolor and oil painting. Accommodates canvases up to 34″.
Half Size: This 10 lb. easel incorporates every accessory that a traveling painter could want, including a padded leather luggage handle and adjustable leather shoulder straps for backpacking. Includes an 11-1/2″ x 16″ folding palette and a tin-lined drawer (6″W x 16-1/2″D x 1-3/4″H) for storage. Accommodates canvases up to 33.5″.
Artisan Special Sale Price: $199.95 thru April 30th (MSRP: Full Size: $374.95, Half Size: $339.95)
Available in both Santa Fe & Albuquerque store.
Micron PN Plastic Nib by Sakura
Are you a fan of Micron Pigma Markers?  Ever wonder how you can have more pressure control without breaking the fragile nibs?  Well Artisan's Albuquerque location has new plastic nib Microns!  With 8 archival pigments to choose from, Micron PN Plastic Nib fine point markers by Sakura are now available at the Albuquerque location!
Price: $2.89 each
Availability — only at Albuquerque store.

Happenings In Our Community
Check It Out!
There's a lot going on in our community. Here's a taste!

 Memorial for Alvaro Cardona-Hine
At Cardona-Hine Art Gallery
April 23, 2017 | 2-5pm
82 CR 75, Truchas, NM 87578
The memorial begins at 2 pm and hors d'oeuvres, beverages and wine will be served as people arrive and mingle. At about 3, we will have a Buddhist blessing by Roshi Mitra Bishop followed by your anecdotes and stories. A video will be set up in the second small gallery room and can be viewed at any time as it will run on a continuous loop. There will also be chairs so you won't be standing for long. Again, please allow older folk first chance at sitting. Thank you and I look forward to being together with all of you shortly!
Parking:  There will be parking in the field right before our gallery, as you drive in from the west. Please face in to park so as to leave room for others. If full, you may also park in the lot right after the Presbyterian church where the library and senior center are. (on the left about 1 block before you get to our gallery). Please leave the spaces in front of the gallery for older and/or handicapped folks.
Speakers:  For those of you who would like to say something about Alvaro, I'd like to suggest that you write it down and read it aloud to yourself and time it so that you can say what you really want to say within approximately 2 minutes or less. There will be a sign-up sheet for those of you who wish to speak. There will also be a couple of guest books available for written messages, drawings, whatever.
Bathrooms: Besides the gallery bathroom, we will make available the downstairs house bathroom. Please do not enter the house via the kitchen as our caterers will be working there. Go just behind the house, walk down the length of the portal and enter the bathroom directly through that door. Watch your step and your head (typical old NM adobe house for us short people).
Workshops in Rome
Michael Bergt is one of nine instructors conducting workshops this summer in Rome, Italy. Michael's workshop is a 2-week class on Egg Tempera Painting Techniques. Here's the short story below.
For information on the other workshops, visit RomeWorkshops.com
Egg Tempera Painting Techniques
June 26 – July 7, 2017 | Rome, Italy
Instructor: Michael Bergt
Art from 8th Century BC to today will greet you in Rome! Home to some of the most remarkable architectural wonders in the world, decorated with marvels of the history of sculpture and painting, and home to some of the most famous examples of frescos ever. But don't assume panel painters will be lacking inspiration! We will visit and discuss amazing collections in Palazzo Barberini, Villa Borghese and the Capitoline Museums, not to mention the Vatican Collection. In that rich history, you will find many early Renaissance paintings with stamped gold leaf backgrounds. Ever wonder, "How did they do that?" The painting was done in egg tempera, (pre-dating oil painting) and the gold was applied with "water gilding."
In this workshop, I will share traditional techniques of preparing and working on toned paper, how to work up preliminary tonal drawings and transferring those drawings to a true, rabbit skin/chalk panel, how to make egg tempera from scratch, and build up the jewel-like surface, and, for those interested, applying gold leaf using water gilding.
Since 1980, my primary panel-painting medium has been egg tempera. I co-founded the Society of Tempera painters, and over the years I've developed my own approach to egg tempera—blending color directly on the panel instead of from pre-mixed tonalities. Egg tempera is a quick drying medium, with a high color key. It is the closest thing to "drawing with paint." As such, I encourage exploiting this "rendering" quality in developing the painting.
Along with painting we will be taking trips to museums and churches to study paintings, drawings and sculptures of the masters.
For more details, pricing & registration, Click Here
Michael Bergt
Michael Bergt has worked primarily in egg tempera for over thirty years. He co-founded The Society of Tempera Painters (www.eggtempera.com) and served as the organization's president for twelve years. Working primarily with the human figure, Michael's paintings refer to a range of interests, including classical myths, sensuality, the human condition, and topical events. He is represented by Nuart Gallery in Santa Fe, NM.
How About a Little Feedback?
Write a Review
We want to hear from our customers about how we're doing!
Tell us about your experience.
It's very important nowadays to have good Yelp & Google Reviews. We'd love for you to share your positive experiences at Artisan on Yelp or Google. These help other artists know where they can go for quality art materials.
Publish positive review on: YELP (Santa Fe store) | YELP (Albuquerque store) | GOOGLE
If your experience has not met your expectations, please tell us, so that we can fix it. We strive to improve our customer service, and your feedback is very important to us. Please send us an email HERE.
Songwriter Sunday
A lot of us up here at Artisan are also musicians, singers & songwriters. Here's how we feed our muse!
Sunday, April 2, 1:00 – 4:00pm
at the Santa Fe store
The first Sunday of every month is Songwriter Sunday here at Artisan, in the Artisan Performance Corner. If you're a songwriter, come on down with your guitar and 1-3 songs (if you tickle the ivories, a keyboard is provided). The Performance Corner has a great sound system! Mikey likes it…!
Write a song about the Ides of March!!